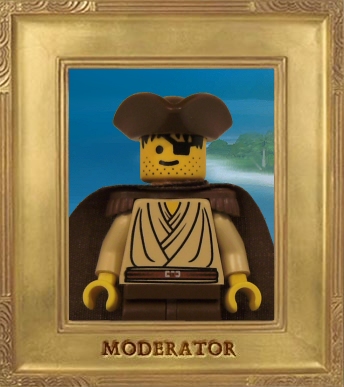 The Beginning
Starting as a small child, ImperialShadows had an interest in creative toys, the kind you could actually do something with. LEGO and computers occupied much of his time, which is, at least in part, responsible for who he is today. Beginning with space, he quickly expanded into castle and town, often finding unique ways to mix them together, sometimes for the purpose of recreating scenes from Star Wars, his favourite movies at the time.
Time Passes
In 1989, as TLG released System Pirates, ImperialShadows was slowly drifting into his dark ages. Pirates temporarily delayed that, fortunately, or he would have missed the line completely. As it is, he was lucky enough to pick up the entire initial release wave complete with shooting cannons (very difficult in the US). Still, it wasn't enough to stop the impending darkness. Everything was packed away carefully, but not forgotten.
A New Dawn
Ten years later, with the release of the Star Wars line, he escaped the darkness and plans to never return to those LEGO-less days again. While the initial plan was to exclusively collect Star Wars, that quickly expanded into bits and pieces of other themes, then full themes, and now it's turned into some form of madness. Madness takes its toll: Please have exact change
The Present
Online, his LEGO presence was mostly limited to lurking forums and digging through Brickshelf. Most of the forums out there had something that didn't appeal to him. Some were boring, some too narrow in scope, others were simply so restrictive that you couldn't have any fun. What's LEGO without fun?
Finding a Home
In May 2007, he discovered Eurobricks and found it to be a nice blend of both the serious and the frivolous, an excellent place to chat and share with similarly minded people. Beginning with the infamous Big Billboard o' Doom, expanding to EB News, then becoming a Fellow and active in the Minifig Customization Workshop making custom decals, and finally helping to found the Fabuland Builders Guild. It's been an active time. He eventually joined the site staff, first as a global regulator and then as a moderator.
Since then, he's also been active in the administration of Classic-Pirates.com as Newsletter editor and eventually serving as an founding administrator of this very blog, which he created the skin for and helps to maintain. He also tries to find time to help out with the Eurobricks Reviewer's Academy, a fine project he's proud to be associated with, and other Eurobricks and LEGO community opportunities like Classic-Town.net, the blog of all things Classic Town.