Writing Post Excerpts
Post Excerpts are summaries of the Post Content which condense the most vital information into 1-2 short sentences or around 15-32 words.
Example
Refer to the BrickLink Designer Program Fails LEGO Pirates Fans post.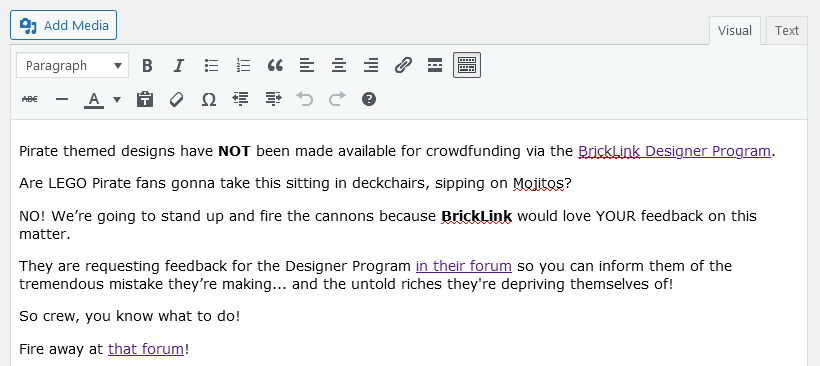 First read the Introduction in the Post Content:
Pirate themed designs have NOT been made available for crowdfunding via the BrickLink Designer Program.

Are LEGO Pirate fans gonna take this sitting in deckchairs, sipping on Mojitos?

NO! We're going to stand up and fire the cannons because BrickLink would love YOUR feedback on this matter.

They are requesting feedback for the Designer Program in their forum so you can inform them of the tremendous mistake they're making… and the untold riches they're depriving themselves of!

So crew, you know what to do!

Fire away at that forum!
Then scroll down until you find the Excerpt Input Field.

Pirate themed designs have NOT been made available for crowdfunding via the BrickLink Designer Program but you have a chance to give BrickLink feedback…
Compare the two and observe how the Excerpt is a shorter version of the Introduction but still contains all the vital details.
Why Write Post Excerpts?
When Blog Posts are shared via Social Media the Excerpt is used as a description in conjunction with the Featured Image.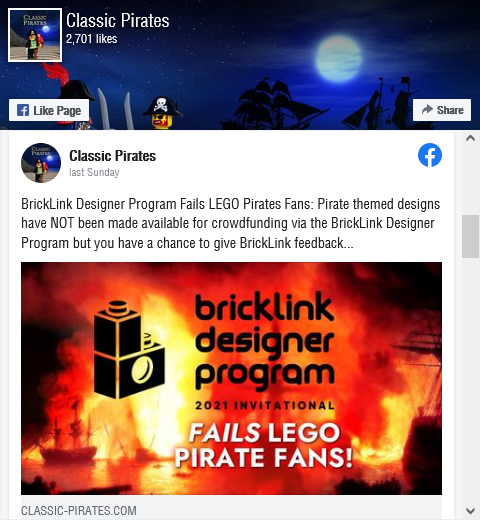 If an Excerpt is not manually written, Social Media platforms will automatically generate one based on the Post Content.
However, they extract the first few sentences which may not always contain the most important information.
Using the "Playa de Palma Resort" by NOD blog post as an example, observe how the Excerpt is taken directly from the Post Content and cuts off mid sentence.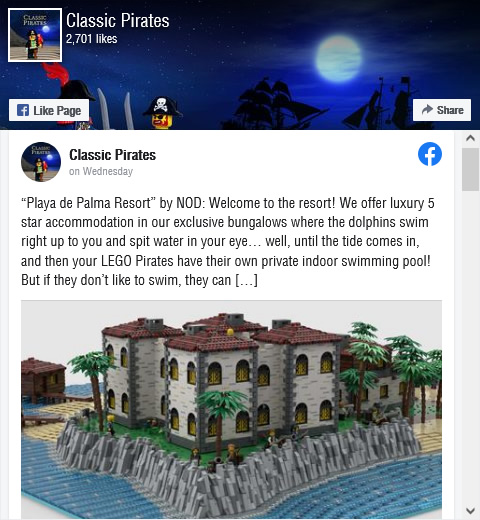 This is not ideal so manually writing Excerpts is necessary to ensure all the vital information is shared to Social Media.
Remember!
Once the post has been made on Social Media, creating or editing the Excerpt, will not update existing posts on Social Media. The new or edited Excerpt will only apply to Social Media posts created after the change.
Do not use links or URLs in Excerpts.
Do not use a direct copy and paste from the Post Content – write a unique Excerpt by summarising the Post Content.
The Post Excerpt should not contain references to the LEGO Pirates Forum. The purpose of the Excerpt is to entice people to read the Blog Post, not redirect them to other websites. It's important to consider not everyone visits the LEGO Pirates Forum or Flickr or whatever sites the Blog Post links to. So the primary objective of the Excerpt is to make reading the Blog Post as appealing as possible.