Our next BIG contest is almost here!  Check out the Prize Pool: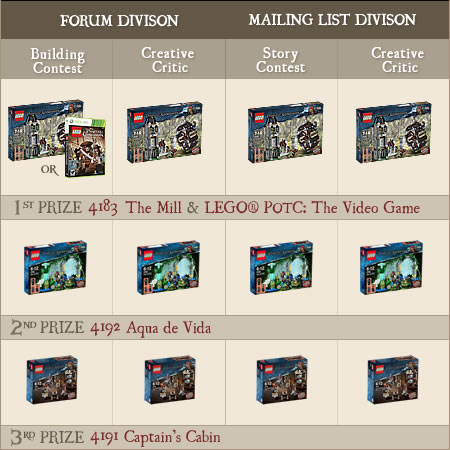 There will be two divisions each with its own Creative Critic awards.
The Forum Division
Build a LEGO® MOC depicting a scene or vessel from any of the Pirates of the Caribbean movies.
Entries will be submitted in the LEGO Pirates MOC Sub-forum so you will need a valid Eurobricks account to enter.
The Mailing List Division
To write a short story (300 words or less) about classic LEGO® Pirates encountering the characters from the Pirates of the Caribbean franchise.
You need to be a Classic-Pirates.com Mailing List subscriber to enter.
Creative Critic
Each division will also have Creative Critic awards so be sure to leave your best feedback.
The Prizes
Disney Interactive studios have provided us with an XBOX 360 copy of LEGO® Pirates of the Carribean: the Video Game and the LEGO® Group has provided a cache of sets!
1 x LEGO® Pirates of the Carribean: the Video Game
4 x 4183 The Mill
4 x 4192 Aqua de Vida
4 x 4191 Captain's Cabin
When Does It Start?
This weekend!  Be sure to have a Eurobricks account and/or Mailing List subscription to enter!
P.S. There will be voting bonuses for those who've joined the Mailing List, Liked the Facebook Page or voted for the Picture Comment Challenge winner.
Got a Question?
Ask away in the Pirates of the Caribbean Contest thread.