UPDATE 5 July, 2022
It has been announced that "Pirate River Quest" is scheduled to open on the 2 November, 2022.
From Bay Area News:
​​​The pirate-themed ride, first announced last year during the park's 10th anniversary celebration, is scheduled to debut Nov. 2.

The storyline for this family-friendly attraction will have visitors searching for Captain Redbeard's lost treasure as they hear the tales of a rowdy pirate crew. The attraction will also feature a character named Calico Jade as well as flamingos, monkeys and a kraken.

Pirate River Quest will travel along Lake Eloise in the historic Cypress Gardens area.

Legoland plans to share "behind the bricks" moments about the attraction on its social media channels leading up to opening day.
Calico Jade? Who be this? And does this mean we'll be getting a flamingo in LEGO form some time in the future?
---
Pirates have long been an attraction at the various LEGOLANDs around the world, and LEGOLAND Florida Resort is no exception! while celebrating their 10th birthday, an exciting new attraction was announced!
Opening in 2022, "Pirate River Quest" takes visitors on a thrilling adventure boat ride with a crew of LEGO Pirates who are eager reclaim their treasure, stolen by a horde of obnoxious monkeys.
---
Promotional Ad
---
LEGOLand Florida Resort writes:
Set sail with a rowdy crew of LEGO® pirates on Captain's orders to explore the murky waters and retrieve the lost treasure, stolen by a troop of mischievous monkeys. Journey through the uncharted waters of the legendary Cypress Gardens and discover the secrets protecting its canals, as this all-new story unfolds brick by brick into a family-friendly treasure hunt.  Adventure awaits you at LEGOLAND® on the Pirate River Quest, coming in 2022.
---
Transcript of all titles in video:
Have you ever wondered about the treasure of Pirate River?

Well it's real Just as real as its treacherous surroundings!

And they're not alone.

Who will be the one to find the lost treasure?

Or will it remain hidden forever?
Treacherous surroundings? Is this ride going to be safe for kiddies? Well, if they don't go on the ride, they'll never find the lost treasure, will they? And technically something is not "lost" when it's stolen… but let's and leave the nitpicking to the monkeys when they get hungry.
---
Official Announcement
LEGOLAND Florida General Manager Rex Jackson announced on 16 October 2021, the new Pirate River Quest attraction will open in 2022.
The touring vehicle will be a LEGO shaped boat, because obviously boats are the LEGO Pirates primary mode of transportation. The attraction also pays homage to the park's history, as the location for the adventure is called Cypress Gardens, the name of the park which was open from 1936 to 2009, before being seized and terraformed into LEGOLAND Florida.
Announcement video courtesy of MouseSteps / JWL Media.
---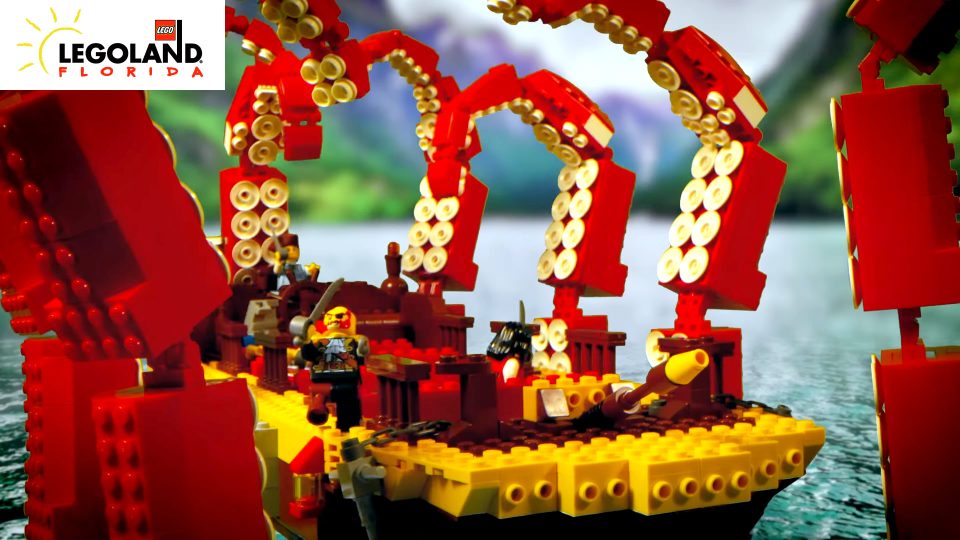 ---
Pirate Island Hotel
LEGOLAND Florida Resort already has LEGO Pirates firmly embedded into it's daily operations, so the River Quest is a welcome extension. If you were planning a visit, you could perhaps consider staying at the Pirate Island Hotel. In a future Blog Post we may dive deeper into what this hotel has to offer, but for now, here are a couple of promotional photos to pique your interest.
If you're interested in Pirates River Quest or the Pirate Island Hotel, check out the official Family Vacation Packages on the LEGOLAND Florida website.
To get discounted tickets visit aResTravel tickets, which is apparently an authorized travel partner of LEGOLAND Florida. But as the Classic Pirates have no affiliation with these merchants, conduct your own due diligence before parting with yer gold.
---
Ready for the River Quest?
Are you excited to take part in the quest? Have you previously been to LEGOLAND Florida or stayed in the Pirate Island Hotel? Did you spot anything interesting in the promotional video like the new wench minfigure?
Come and discuss Pirates River Quest in the LEGO Pirates Forum!