Bodi has sent the HRS Leopard to the rescue!  He built this frigate with custom sails for the Brethren of the Brick Seas game – and right now they're battling it out in the LEGO Pirates Forum! So don't miss out  action – will the Leopard be enough to strengthen the blockade or will further reinforcements be required?  Join the fun and find out!
---
Bodi writes:
The Olean fleet has been blockading the Terraversa for months, despite their best efforts, several Corrie and Eslandian ships have managed to pass through the blockade and landed hundreds of troops on that island, complicating the already complex situation.

In response to this show of force, the ministry of the colonies has ordered a couple of new ships to the Eltina Shipyards, where men were working at full capacity since the start of hostility.

Here's one example of the newly commissioned by la Royale. Built for speed and firepower, this class of new frigates, along with other heavy hitters, will help Oleon to maintain its naval superiority.
---
The Back Story
Captain Surlecoup, as an Olean privateer, made his first appearance in the Westface, while the RNTC was carrying out a mission in Terraversa. OL's mission in Westface had to solicit the captain's help after having detained by the local authority, despite their prior efforts in rescueing shipwrecked TVsans. The whole thing turned out to be a trap set by the lawless TV militia, and without the intervention of a more reasonable mind, war between OL and TV could have taken place years before.
Then, our relentless captain has proved his competence and savoir-faire during the Lotus incident, delivering precious information about the motivation behind that sudden incursion of Lotii in El Oleonda, and in the subsequent sea battle, he, with his samourai friends, captured a Lotii warjunk.
It's in recognition of his devotion to the Crown, this frigate was specially designed and built for him. In line with the latest advancement in OL's naval architecture, this ship has the particularity of offering more room for the crew, allowing them to better adapt to a prolonged journey on sea.
---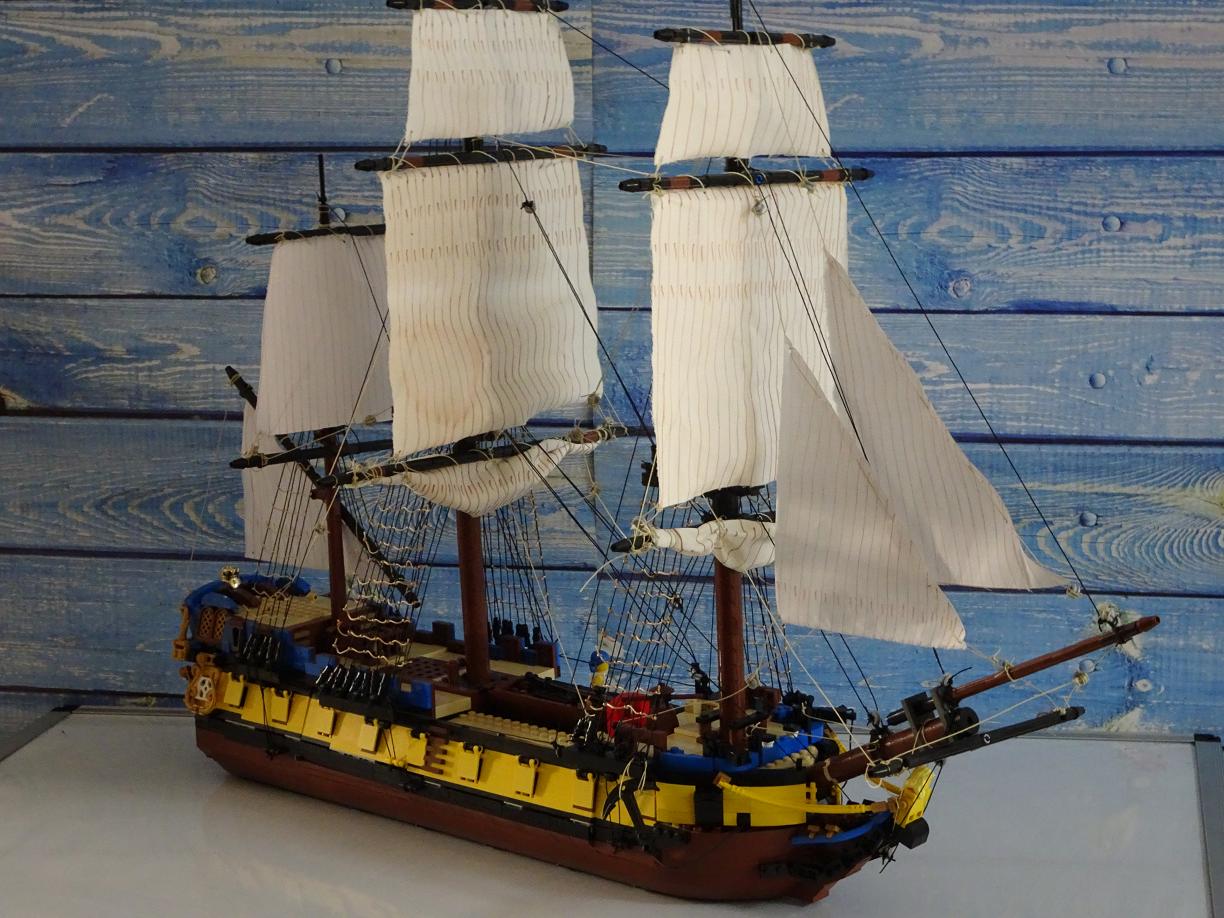 Captain Surlecoup is going to board his new ship.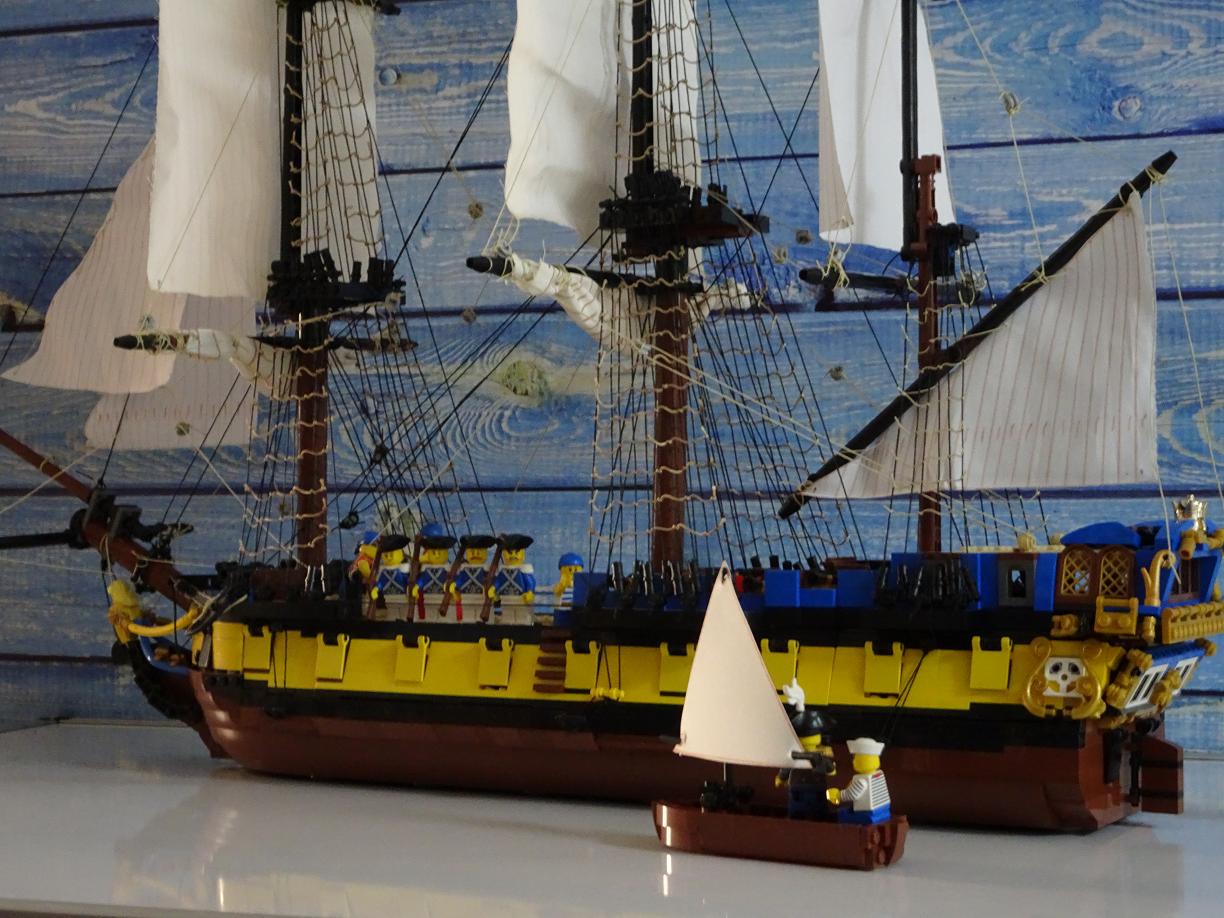 And he's glad to find his companions of arm already on board.
"Captain on the quarterdeck." Said the helmsan. "But where is the helm?" Asked a surprised Surlecoup.
"Here it is. under the poop deck." Replied the man. "This should keep your clothes dry in bad weather."
"Very well, set sails and head to the open sea."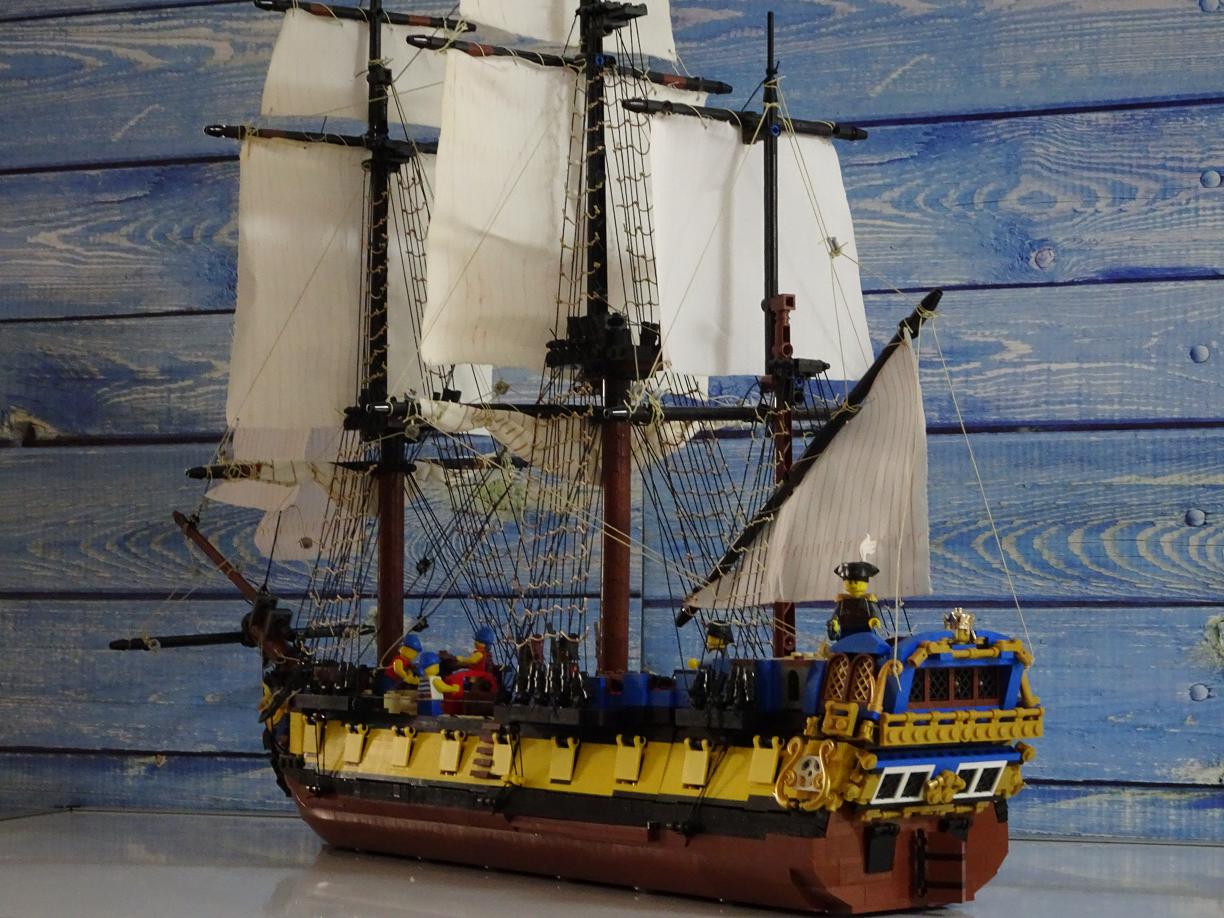 ---
About the Builder…
Bodi is a regular contributor to the Brethren of the Brick Seas game played in the LEGO Pirates Forum on Eurobricks.