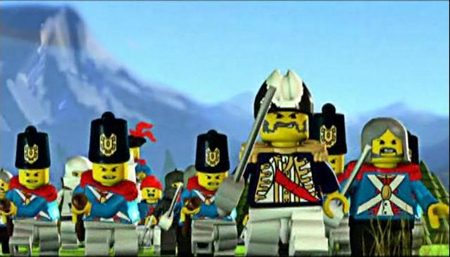 Classic-Pirates.com members Emperor Claudius Rome and Dr Steve bring us news of the appearance of Bluecoats, Caribbean Clippers and Islanders in the upcoming LEGO Battles Game for Nintendo DS, leading to mass-speculation about the future of the Pirate line. The majority seem to wish for Bluecoats to replace the current Redcoats, whilst the appearance of other obsolete themes, such as Mars Mission and Ninja, cause scepticism in others. The matter is complicated further as the governor from the current Pirate line (pictured above, front), is named Broadside in the game, taking the name – and hat – of his forebear…
Join the discussion – and confusion – in the Pirate forum
Meanwhile, general speculation about future sets and their release dates continues:
When will the new sets be released? We already have news of the LEGO Pirate Advent Calender to be released in November, but that doesn't seem to satisfy everyone. Join the debate!
What do you want to see as new sets? Pure wishful thinking – but Eurobricks members have been right in the past! What's your dream set?
The return of the morion (Armada helmet) in recent Indiana Jones sets has sparked discussion over a return of the Armada Soldiers. The return of the cutlass piece in an Indiana Jones set preceded the return of the Pirate line – so why not? Share your opinion in the Pirate forum.