Remember that horrible April Fools Day joke we played when we claimed The LEGO Group would be releasing a brand new pirate ship… but it turned out to be a MOC called Fer Maiden by Supersick_?  No, you don't? Good… it was a terrible joke which angered millions so let's never speak of it again!
Since April 2021, Supersick_ has continued to utilise his superior ship building skills to bring us the Barracuda Brig, another vessel armed to the teeth with an assortment of menacing guns. As well was, hoisting some custom sails, with a weathered texture, similar to those used by the Fer Maiden.
A sight to drive fear into the hearts of even the bravest of LEGO Soldiers or Imperial Guards!  The Imperial Armada and Royal Marines weren't available for comment, however.  (The Royal who???)
---
---
The Story
Word in the wind is that Captain Redbeard has scaled back his plundering to focus on life at Barracuda Bay… yet here be a newly commissioned coastal vessel for defense and raiding.
She's an 18-gun flush-deck brig-sloop carrying 14 large cannonades on broadside, 2 stern cannonades and 2 long gun bow chasers. She's built to Theme-scale with fast lines and shallow draft, making her an ideal raider. Befitting her namesake, she uses speed and agility to trap prey close to shore and then slips away between reef and shoal, her holds full of provisions or treasure.
Her sails are shared with my Fer Maiden design (except she's brig-rigged not a ship-rig so she does not have a mizzenmast).
Features: a working capstan to weigh anchor, standing and running rigging with yards that rotate to accurately portray various sailing profiles, removable grates in the hatches for loading cargo or crew*
*There is minimal height below deck due to the prefab hull so she does not have a modeled crew quarters.
Now go find some prey, me fellow scoundrels, and lay waste to anyone who tries to stop you.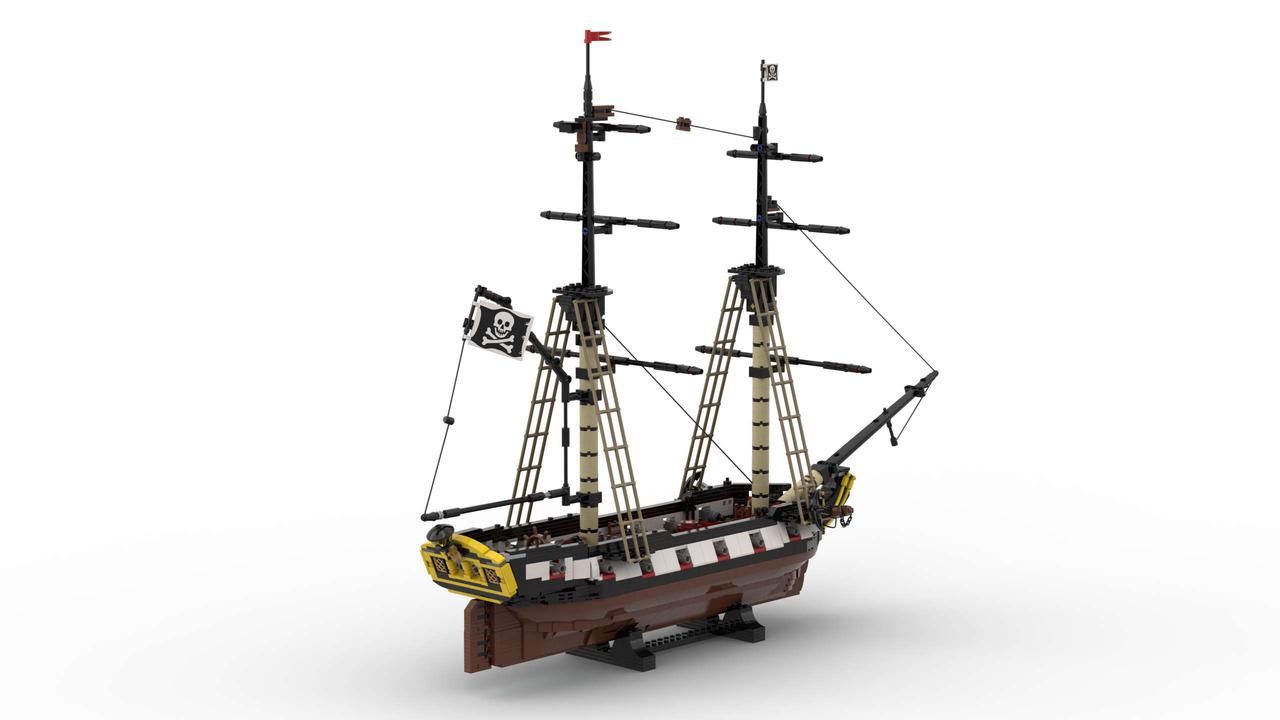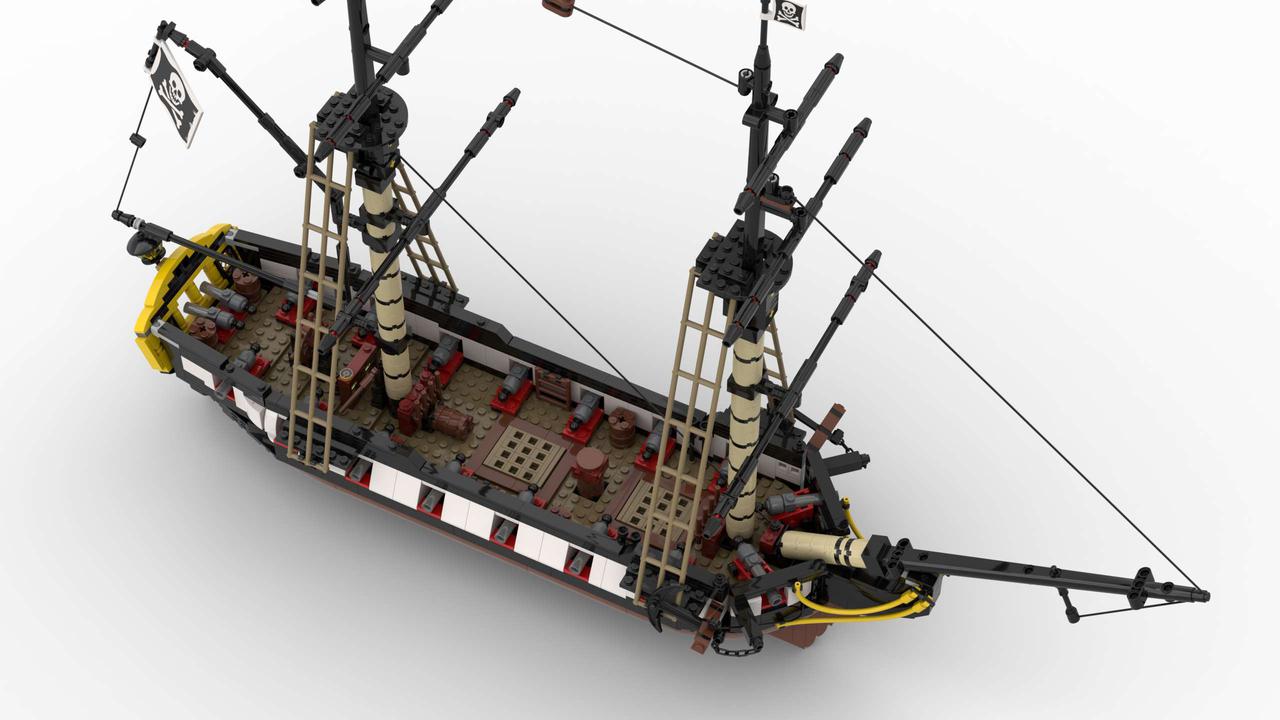 ---
Supersick_ writes:
I've been working on this one for what feels like AGES. I couldn't decide on what type of brig to build. I first wanted to do an Imperial brig but in the end I thought I'd give Redbeard a reinterpreted BSB flush-deck brig sloop armed to the absolute teeth. I figure this suits his lifestyle at Barracuda Bay – needing something that can sail quickly into shallow waters with a decent hold size.

As for techniques this is very much in line with my design for the Fer Maiden frigate, just scaled for a brig. A workhorse sloop of war, devoid of the fanciful carvings and figureheads but still customized and special enough for a veteran sea dog like Redbeard. In these local waters around the Bay, he traded lush quarters and privacy for more guns and a life with the crew below deck.

Originally I had a few versions with aft quarter galleries, cabins, etc. and like any good brig-sloop class, there will be different versions built.

Find the instructions and .io model on Rebrickable.
---
---
About the Builder…
Supersick_ (or Lindsay Ross, if you prefer normality) is another talented AFOL who emerged on the LEGO Pirates scene throughout 2020 by posting some MOCs in the Classic Pirates Facebook Group. In the time since, he's joined the LEGO Pirate MOCs Forum and continued to share some great ship builds like the Fer Maiden and Barracuda Brig, in addition to providing some great advice to other inspiring ship builders.
For more of this design dude's fantastic work check him out on Instagram, and if you'd like to commandeer incorporate his ships into your own fleet, building instructions can be acquired from ReBrickable.