This pirate ship is Captained by a pirate ancestors of Spongebob Squarepants (as Captain Bob "The Sponge" Squarepants), Patrick Star (Rick "No-beard" Star the lazy pirate lookout), Sandy Cheeks (Miss Cheeks, a fierce hand-to-hand fighter) and Squidward Tentacles, (Mr. Tentacles, the helmsman and reluctant pirate recruit)
Mr. Krab is another pirate, but of course he has his own ship, the Krusty Krab. The Silver Crab is a ship wanted by Captain Krab's, for a treasure map he engraved into the helm's wheel long ago. (unknown to everyone, however, is that bluecoat Commodore Plankton is stalking Captain Krab's ship for stealing what was originally his treasure… which is now locatable because of said engraved map on Captain Squarepants' ship.)
Confused enough yet?
The pirate ship has six non-firing cannon barrels, with a movable rudder and a rear sail that swings back and forth. (Miss Cheeks mini-figure's head is not in LDD, so she's headless in the first picture) The ship itself is based off a MOC of the Dying Gull from the Pirates of the Caribbean movie franchise. (specifically Dead Men Tell No Tales) Here is the instructions page if you want to build it.
Here's the comparison with the original MOC if you are interested: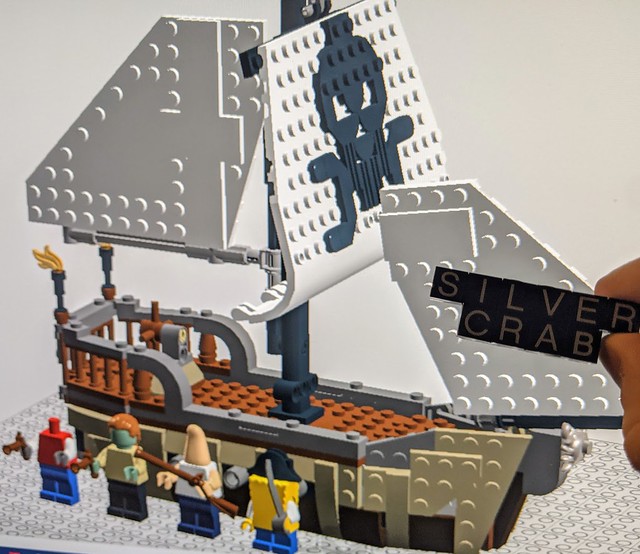 What are your thoughts on this build?